Looking for Classroom Management
& Student Engagement Strategies
That Really Work?
You're in the right place.
Learn How
Don't Miss Our Big Giveaway...  £200+ Worth of Resources... FREE
(Don't Delay - This  Offer's Closing Very Soon)
CLICK for details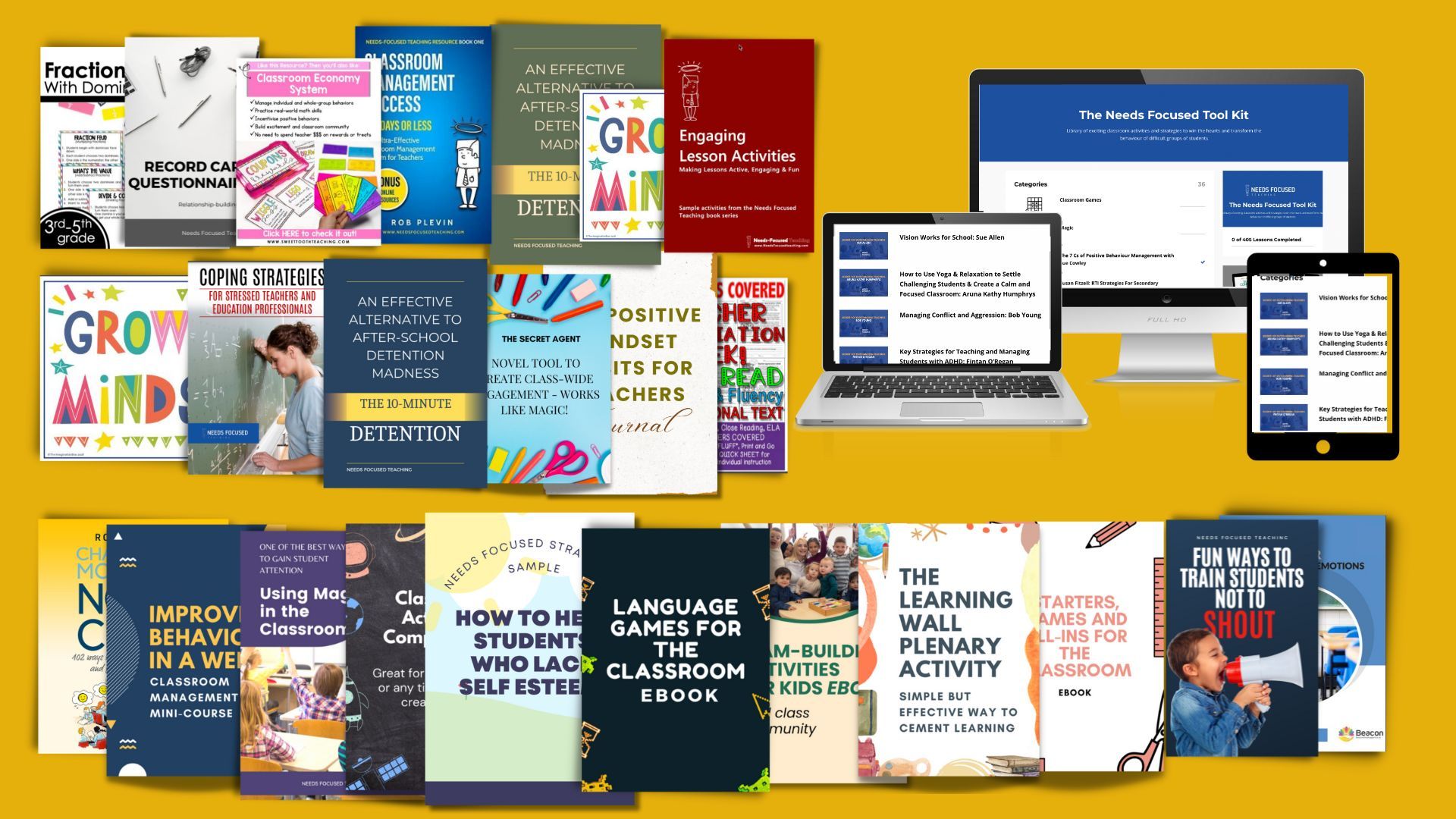 Hannah Lethbridge

"I just wanted to let you know that your fabulous book 'Take Control of the Noisy Class: Chaos to Calm in 15 Seconds' has ranked in RocketEd's 10 Best Books on Inclusion for School Leaders. It was chosen as one of the most useful resources we have encountered to advise schools on ways to improve behaviour management and inclusion."
Melanie Watson
"Rob, Thank you for offering this webinar. I have been a school psychologist for 21 years. Your talent for distilling evidenced-based strategies and life experience into a simple approach is rare and so appreciated."
Yours FREE:
Classroom Management Success in 7 Days or Less
Download your free digital copy as an introduction to
Needs Focused Teaching

completely FREE (normally £9.99 on Amazon) Download your FREE copy
FREE WEB CLASS
How to Get Your Students to LISTEN to You, RESPECT You and FOLLOW Your Instructions
The Needs Focused Teaching Method
Learn the 7-Step Method for Reducing and Managing Classroom Behaviour Problems... Without Bribes, Punishments, Threats & Arguments!
Access Now
Welcome to

The Needs Focused Teaching Method
Let's face it, two of the most challenging aspects of teaching when it comes to classroom management are getting your students to respond positively to your instructions and getting them engaged in lesson tasks.
The trouble is, like most teachers, you probably have far too many challenging students to deal with, not enough support and limited time to make a success of every lesson, every day. You're busy enough with the stress of managing a constant stream of behaviour problems whilst trying to juggle the rest of your heavy workload.
And, if you don't have proven classroom management strategies in place for gaining student attention, respect and compliance – these problems are compounded which can make some days extremely challenging and frustrating.
But I've got some good news for you - a range of classroom management strategies and student engagement methods that work like magic…
You see, despite all the challenges in today's classrooms, there are teachers and professionals just like you who consistently succeed with the most defiant students, and enjoy a new sense of accomplishment, less stress and more joy in their teaching. And this is without relying on bribes and threats.
These people use the Needs Focused Teaching Method to prevent the majority of behaviour problems from happening in the first place by ensuring students are appropriately engaged; and to respond swiftly and effectively to any issues which do arise.
Now you too can use Needs Focused Teaching methodology to prevent problems in your classroom, engage more students, gain more respect, and enjoy your teaching.
On our TESTIMONIALS page, you can see just a FEW of the tens of thousands successes we've had helping teachers, lecturers, support staff and other professionals – and we'd like to help you too!
Please check out our Classroom Management and teaching resources and courses. We also provide a range of FREE RESOURCES which you may find useful.
If at any time you wish to contact us please use the HELP DESK and don't forget to sign up for your free classroom management strategies mini-course and tips service at the top of this page.
Best Wishes,
Rob Plevin: creator of The Needs Focused Teaching Method
Well. That's me. The guy on the right.
Except that picture is about eight years old. So I'm older and a bit more 'haggard' looking these days.
Anyway, I created this thing called The Needs Focused Teaching Method to help teachers with classroom management and student engagement.
And it's pretty good.
So good that it's being used in thousands of schools all over the world. Yay!
But there's no point in droning on and on about all that.
If you want to know if I'm a good fit for you, have a look at some of the free resources here on my site, check me out on YouTube or flick through some of the reviews on Amazon and elsewhere.
If you want to, you can try out some of my paid products too.
If not, that's OK. I understand. I won't suit everyone.

For example, if you're a fan of bribes, detentions and 'quick fix' attempts at controlling kids,you probably won't like my stuff.

But if you believe in the power of positive relationships and that children need to be understood first and foremost, then we're off to a great start. :-)
Free: The Filter Method
More than 3 million views on YouTube! A Surprisingly Effective Method For Settling Noisy, Out-Of-Control Groups of Students In Record Time
SEE THE FREE VIDEO HERE
Good Behaviour, No Problem